Highly-enriched cream cleanser realized by bubble cream technology

MLE® Skin Barrier Formula containing the patented ceramide complex, when combined with the bubble cream technology, helps minimize the moisture loss from washing your face and provides a hydrating feeling by creating a layer that protects moisture on the skin, as if you applied a cream after wash.

Free of sulfate-based elements! Low-irritating and slight acid cleanser

Cleansing elements from natural sweet almond oil gently cleanse the skin, and the gentle and fine bubbles that seem like whipped cream work to perfectly remove makeup residue and the waste inside the skin, while protecting the skin barrier.

Purifying weary skin that has been irritated by external environments that are aggressive to the skin

Triticum Vulgare (Wheat) Sprout extract and Spirulina ingredients soothe weary skin irritated by external stimuli such as fine dust.

Soothing and Protection by 3-Calming Complex

3-Calming Complex containing panthenol, madecassoside, and allantoin immediately soothes and protects irritated skin.

Completed test that has proven it does not irritate skin

Free of 10 additives harmful to skin
Natural vegetable oil gives you a hydrated feeling after wash
Atopalm Real Barrier Cream Cleansing Foam is designed to cleanse skin with moisturizing elements, minimizing moisture loss and protecting the skin barrier. It allows mild yet non-irritating cleansing for sensitive skin.
Cleansing elements from natural oil, not sulfate-based components, are used, providing ample moisture during and after the cleansing phase, just like you already applied a cream to your face.

If you have sensitive skin, check the following items first when selecting your cleanser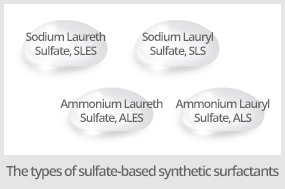 1) First, make sure that it does not contain any sulfate-based elements!
Surfactants are chemical substances that help blend water and oil, used mostly in the products for cleansing. Sulfate-based surfactants are petrochemical-based synthetic surfactants that are easily absorbed into our body through the skin, possibly contributing to allergies, hair loss, and, if accumulated in the human body, genetic modification. It has been proven that frequent use of sulfate-based surfactants might lead to cancer or other chronic diseases, so it is best to refrain from use to ensure your safety.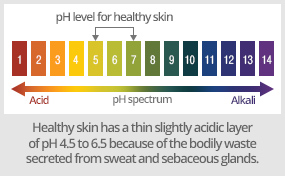 2) Second, check if it is a low-irritating, slightly acidic cleanser!
The cornified layer of our skin can best protect against foreign substances when it is in a 'slightly acidic' state. As sensitive skin often has a problem in its acid layer function, it is recommended to use a cleansing product featuring slight acidity, which helps maintain the proper pH level for healthy skin.
Formulated with natural humectants to reinforce our skin barrier
What is a skin barrier?
Skin barrier consists of dead skin cells and lipids in between cells. Located at the outermost layer of skin, it "protects the skin surface."
What happens when the skin barrier falls apart?
When the skin barrier weakens, moisture inside skin evaporates, causing skin to dry out..
As a result, harmful compounds from the exterior easily penetrate inside skin, possibly causing troubles.
Sensitive skin with a weakened skin barrier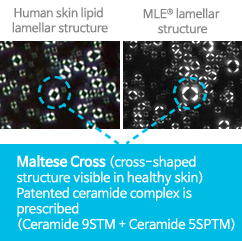 MLE® REAL BARRIER FORMULA
Uses internationally patented MLE® technology
Recreates the same compounds and structure of real skin, thereby reinforcing the weakened skin barrier.
"Maltese cross" structure is clearly visible when observed with a polarizing microscope.

Creates a real skin barrier!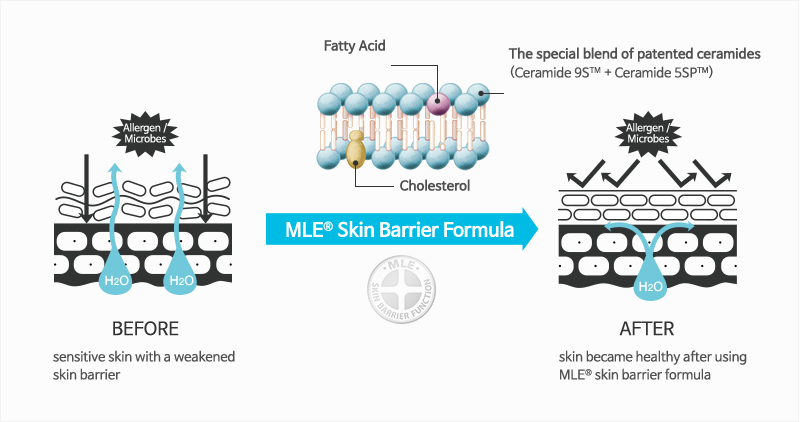 Three-Calming Complex: complex compound that soothes skin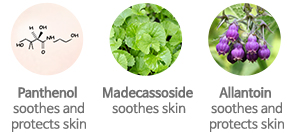 As a highly enriched real-barrier soothing complex that contains panthenol, allantoin, and madecassoside, it instantly soothes skin turned sensitive because of external stimuli. Also, it protects skin from becoming more sensitive.

Instantly soothes and protects skin, which can easily become sensitive due to the harmful external environment
How to use
Apply a proper amount onto your wet palm, lather up bubbles, and spread those on your face. Massage your face gently and then rinse clearly.
TIP
Since it is a highly-enriched product, sufficiently apply enough water onto the face and the palm to enjoy richer and creamier bubble cleansing.
Recommended for
Damaged Skin
Dry Skin
Sensitive Skin
Atopalm Real Barrier was developed in consideration of women in their 20s and 30s.